Bring yourself back: The 5 Senses Check-in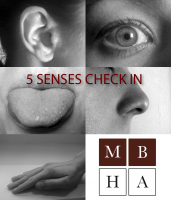 Looking for a practical way to bring you back into the present moment? Therapist Holly Schweitzer Dunn, LISW, recommends a quick check in with your senses. Briefly ask yourself:
What am I hearing right now?
What do I see?
What do I taste?
What do I feel touching against my body or skin?
What do I smell?
Taking  the time to simply notice, without judgment, what you are experiencing can take you out of habitual patterns of fearing the future (anxiety) or reliving the past (depression). Pair this with a few deep belly breaths, expanding the belly on the inhale and letting the belly fall on the exhale, to help you "reset" the nervous system.
---
Holly Schweitzer Dunn is a Licensed Independent Social Worker who holds a Master's degree in Social Work from Virginia Commonwealth University. Her goal is to provide treatment that emphasizes the imperative nature of finding balance in all areas of life.
Currently Holly is focusing on youth, adult, and family treatments. She provides counseling for a variety of issues including eating disorders, sexual abuse/sexual trauma, self-esteem difficulties, depression, anxiety, adjustment disorders, and grief work. She utilizes a solution-focused approach using sensory motor, cognitive behavioral and motivational techniques to assist people in making positive changes in their lives.